Feature Projects
MSU students offer community development resources in Delta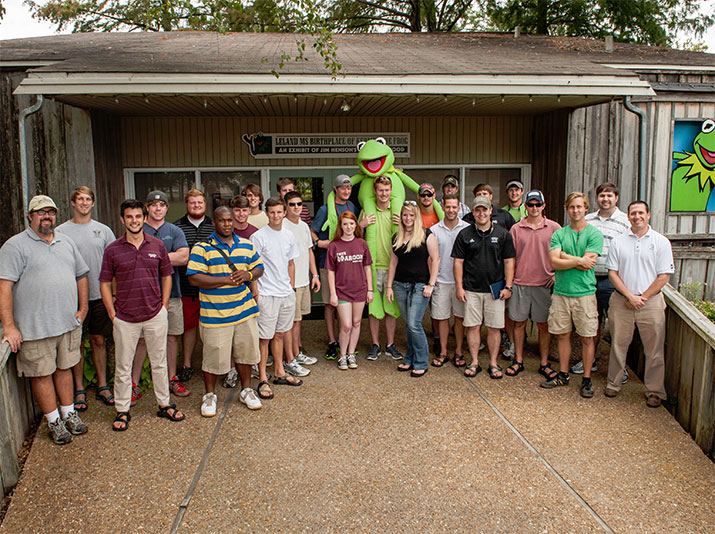 More than 50 people came to the B.F. Smith Building to see the community master plans developed this semester by teams of MSU landscape architecture students in the senior design class taught by Taze Fulford, associate professor of landscape architecture.
After a two-day visit to Leland in September, teams of students developed the plans to give Leland residents ideas about how to make the town more attractive for residents, visitors and industries.
Focus areas included Deer Creek, which runs through the center of town; the Jim Henson Museum, birthplace of Kermit the Frog; and Leland Oil Works, a former cottonseed oil mill, now vacant.
MSU landscape architecture's involvement in the project is actually an extension of the work begun with Joe Fratesi, community development director at MSU's John C. Stennis Institute of Government and Community Development, when Leland participated in the First Impressions program a few years ago, according to Lowe and Patton.
Two students, Will Stockton of Hernando and Bennett Smithhart of Brandon, said their primary goal was to make certain that Leland residents found the best ways to emphasize their community's strengths.
"In the downtown area, we focused on adding trees, better parking, better crosswalks and dressing up each building, which will hopefully bring in more business, retail and more living opportunities as well," Stockton said.
Smithhart said coming up with ideas to improve the town wasn't as big of a challenge as expressing them with an appropriate level of detail to remain accessible to the community, yet still feature the particular elements necessary to making the project a reality.