Feature Projects
County museum shows images of the past, visions of the future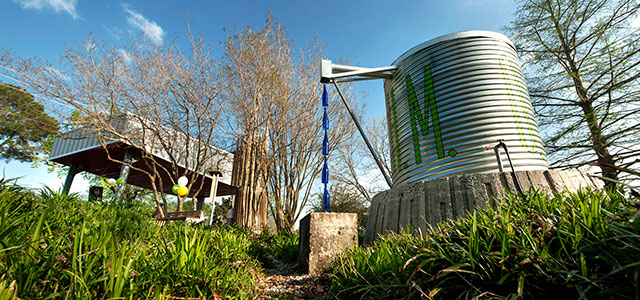 The Oktibbeha County Heritage Museum in Starkville reminds visitors of what a small Southern community once was, but also what it could be.
The museum provides a glimpse into the history of Starkville and Oktibbeha County through a collection of artifacts, memorabilia and antiques. When flooding caused by runoff threatened the building and its collections, a team from Mississippi State University's Department of Landscape Architecture was called in to assist. The team is not only providing a new landscape design to manage storm water, but is also demonstrating to the community the importance of sustainable landscapes.
"The museum's director, Joan Wilson, contacted us back in 2008 about storm water issues," said Wayne Wilkerson, associate professor of landscape architecture at MSU. "Water that normally would flow to a drain was collecting under the building and causing damage."
Wilkerson, also the Director of Mississippi's Water Resources Research Institute, worked with his colleague Cory Gallo, assistant professor of landscape architecture, to develop a plan for the museum's landscape.
"We prepared a master plan to solve the drainage problem but also provided them with a long-term solution for storm water management through rain water harvesting and infiltration," Wilkerson said. "We came up with a plan to turn the landscape into an educational unit so homeowners have the opportunity to learn how to implement similar systems into their own landscapes."
The multi-year landscaping project began in 2009, and the third phase was completed this spring. A fourth phase will be completed in fall 2011 and the fifth in the spring of 2012.
"We started with the rain garden and sand filter," Gallo said. "The rain garden absorbs rain water runoff, and the sand filter acts as a cleaning and detention system. It filters out sediment and debris as the water moves through it."
The new landscape also provides a new outdoor learning and recreational area.
"We provided an area that serves as a mini-amphitheater, and the museum is going to utilize the space by holding a movie series," Gallo said. "The second outdoor area we will complete is a space for parties and gatherings. We wanted to create spaces that are inviting and useful."
The project is funded by The Friends of the Museum, grants and individual donations. The museum's board must approve each phase of the design, and Starkville's Board of Alderman review and have to approve any requests made of the city.
"The city has helped provide labor and necessary equipment," Gallo said. "This project wouldn't be possible without the help of the city of Starkville."
Students in Gallo's Construction II classes assist with the design and implementation.
"Each year, the students in that particular class help tackle a phase of the design and implementation," Gallo said. "The students provide an average of 20 hours of labor over a two-week period. Most of the students have provided more than the required time."
This past spring, students helped demolish an old deck entrance and reconstruct a new one with composite materials and built-in seating for patrons.
"Some students had never used a hammer, and some had a lot of construction experience. We tried to give assignments based on their abilities and experience," Gallo said. "The whole project has been a great learning experience for them. Students who have worked on earlier phases sometimes come back to check out the progress. They take real pride and ownership."
Local Master Gardeners are also helping with the landscape installation.
"The Master Gardeners have helped us come up with a plant palette, and they've also assisted in installation and maintenance," Gallo said. "During the times we don't get a lot of rain, they'll come out and water the plants."
The next phase of the design will include the installation of cisterns that will be used to harvest rainwater for use in the landscape. The team will also provide signs to be used in the garden that will offer explanations of the different sustainable landscaping systems.
"We'd like for people in the community to implement these systems in their home landscapes," Wilkerson said. "If rain harvesting techniques were implemented at every house, we'd see benefits on a very large scale well into the future."
These simple infrastructure solutions can do something else, too.
"In addition to providing protection to the environment and our water supply, they also look good," he said.
The museum's director, Joan Wilson, said the landscape facelift has done much more than originally anticipated.
"We are thrilled with what the new design has done for our museum," Wilson said. "They've corrected our storm water issues, which helps protect our building, but they've also made the museum more visible and inviting."
Wilson is also excited about the museum being a showplace for innovative landscaping.
"Most people have heard about rain barrels or cisterns, but here, they'll get to see them put to use and learn how to do it in their own gardens," she said. "The work done here is a real addition to our community."
For more information on the museum, visit oktibbehaheritagemuseum.com